Buy these fascinating stories of famous families and their relationships, in a handy pdf format (PC and Mac)
A genogram is a systemic version of a family tree. The handy symbols and organization of genograms enable one to identify and understand patterns and family history. Family therapist Monica McGoldrick and her colleagues have pioneered the development of this diagnostic tool as a method of helping to view family patterns past and present.
Downloadable Genogram Stories (pdfs)
Books About Genograms
Genograms: Assessment & Intervention (by McGoldrick, Gerson & Petry, W.W.Norton, 3rd editon, 2008) explains how to draw and understand genograms.
The Genogram Journey: Reconnecting with Your Family (by McGoldrick, W.W.Norton, 2nd edition, 2010), explores changing your role in your family genogram through understanding your family's patterns. Families discussed in the book include Presidents Obama, Clinton, Roosevelt, Adams, Bush, the Kennedys, and other famous families such as Freud, Beethoven, Frida Kahlo and the Fondas. These families illustrate couple patterns, intergenerational relationships, siblings, secrets, and loss.Genograms have become widely used in medicine, counseling, psychology, social work, and the other health fields. The symbols and format are evolving as genogram software develops.  The original genogram standardization was developed by the North American Primary Care Research Group (Jack Froom, et al.) in collaboration with leading family physicians (Dr. Jack Medalie and colleagues) and family therapists (especially Dr. Murray Bowen and his followers). Our most exciting hope is for the development of research using genogram information as a database.
Genogram Basics
Download the 12-page pamphlet, with all the current genogram symbols and information, for only $2.50. Here are some thumbnails to show what's inside: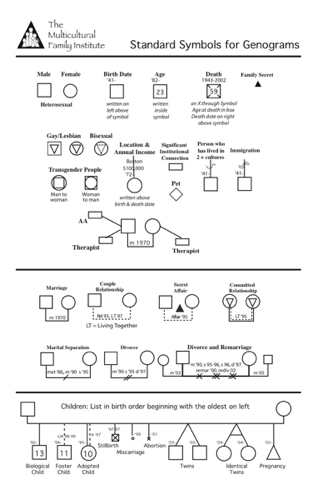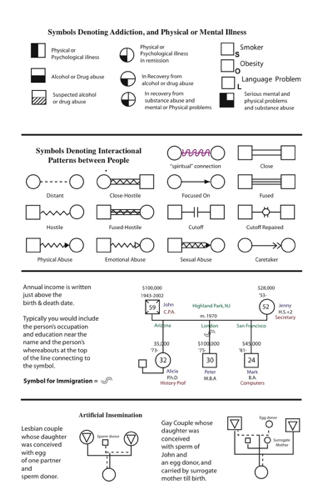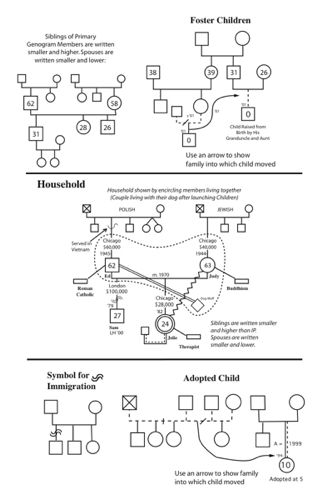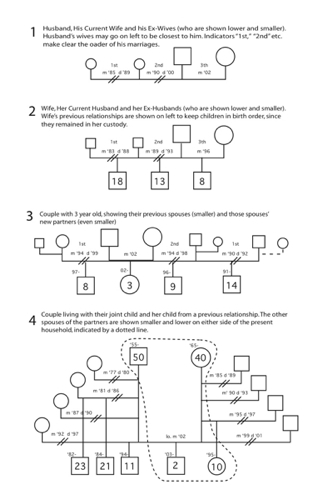 "You will be someone's ancestor. Act accordingly"
—Amir Sulaiman