Erikson Genogram Downloadable PDF
$3.00
This up-to-date pdf contains valuable historical and biographical details, insightful analysis of key relationships, and genogram diagrams to help understand context and families.
Description
The genogram of one of the most famous human development theorists, Erik Erikson provides an interesting illustration of the value of this tool for understanding people in life cycle context. Here's a sample screenshot from the pdf file: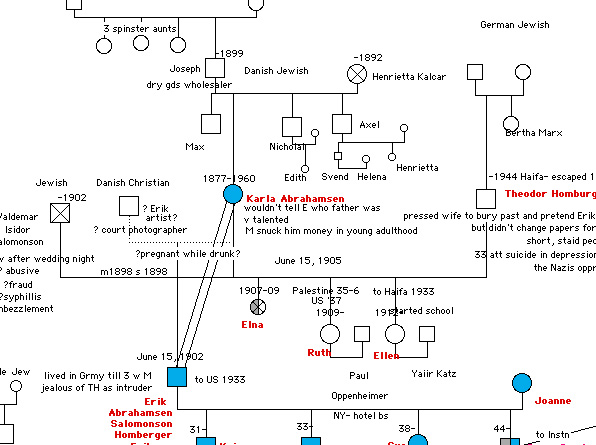 Though Erikson was so preoccupied with the concept of identity all his life, he never had the opportunity to learn his own identity. In later life he and others did much research to discover his father's identity, but when finally he had the chance to learn the results of the research, Erikson chose not to view it. He had invented his own last name "Erikson" as if to say: "Erik, son of myself." Many said his name change hid the Jewish part of his identity, and even the German part of his background (he had been raised from birth in Germany), emphasizing a Scandinavian connection with a father he had never known, and a culture where he had never lived…
Learn more about Erik Erikson's fascinating genogram story, by downloading this pdf from our site. Only $2.50!