Joplin Genogram Downloadable PDF
$3.00
This up-to-date pdf contains valuable historical and biographical details, insightful analysis of key relationships, and genogram diagrams to help understand context and families.
Description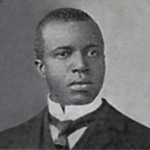 The Genogram Story of Scott Joplin
by Monica McGoldrick
"Scott Joplin, the first African-American composer to fully develop his compositions into an American idiom, was the first of his family's children to be born after the end of slavery (1868). If we look at the Joplin genogram we many wonder why Scott of all his musical siblings became the famous composer whose music is still so widely listened to…"
Want to purchase this pdf file? Click the button above to download this file from our online store. We use PayPal and can also accept many credit cards. After purchasing your file, you will receive a confirmation email containing a secure link to your file. This link is valid for three days after purchase.
A screenshot from the downloadable pdf: