Kahlo Genogram Downloadable PDF
$3.00
This up-to-date pdf contains valuable historical and biographical details, insightful analysis of key relationships, and genogram diagrams to help understand context and families.
Description
The Genogram Story of Frida Kahlo, by Monica McGoldrick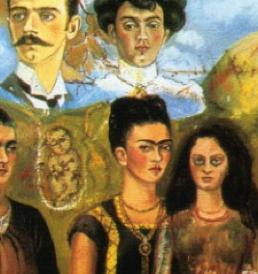 It is vital not only to consider a family's cultural identity, but also to consider the broader sociopolitical context and historical forces that shape family experiences. A compelling example of this can be observed in the case of famed painters Frida Kahlo and her husband Diego Rivera.
Would you like to purchase this pdf file? Click the button above to download this file from our online store. We use PayPal and can also accept many credit cards. After purchasing your file, you will receive a confirmation email containing a secure link to your file. This link is valid for three days after purchase.
It is impossible to understand Kahlo's family without considering the historical and cultural context in which they lived. Frida Kahlo was a revolutionary artist born in Coyoac‡n, Mexico, amidst political chaos in her homeland, who so identified herself with her political era that she used to say she had been born in 1910, the year of the Mexican Revolution, although in reality she was born three years earlier.
Her life was fully caught up in the sociopolitical struggles of her culture and times, as her work reflects… (buy the downloadable pdf and read more about Kahlo's family and historical context!)