Chapter and Presentation/Video about Stonehenge: Historic Meetings of Women Family Therapists in 1984 and 1986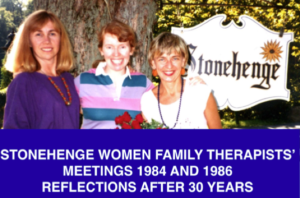 In June 2017 several members of MFI including Monica McGoldrick, one of the organizers of the meeting, Paulette Hines and Nydia Garcia Preto participated in a meeting at the annual AFTA conference about the Historic Stonehenge meetings of women Family Therapists which had originally been organized by Monica, Froma Walsh and Carol Anderson. Monica and Froma arranged a video and powerpoint on the history of the Stonehenge meetings and some suggestions on where things have moved on tender issues in the past 33 years.
Click here for the video of pictures and discussion of the meetings.